Date

Time

Venue

10.19
(Sat) 
13:00~
Opening Ceremony
・Welcome Performances and more
Yonago
Convention
Center
1st Floor
Multi-purpose Hall
13:50~15:50
Keynote Speech
 
Introduction of Tottori Prefecture (Video)
 
Declaration for Environmental Protection of Mt.Daisen
16:30~17:50
Discussion Session
18:30~20:00
Welcome Party
・Welcome Performances
・Local Specialty Food Stands presented by "Shoku no Miyako"
・Promoting Section on Stage by Foreign Countries
Yonago
Convention
Center
2nd Floor
International Conference Hall
10.20
(Sun)
9:00~16:30
Excursion
*Please choose one out of 8 courses.
・We also have Half-Day Courses.
・Kaike Daisen Sea To Summit is held at the same time.
Various Places
in
Tottori
Prefecture


17:30~19:30
Exchange Party at Daisen
・Welcome Performances
・Local Specialty Food Stands presented by "Daisen Megumi no Sato".
・Night Tour (20:00~21:00)
Daisen Town

10.21
(Mon)
10:00~12:30
・Conference Overview
・Excursion Debriefing Session
・Introduction of Ecotour Programs within Tottori Prefecture
・Closing Ceremony
Yonago
Convention
Center
1st Floor
Multi-purpose Hall
13:30~
Optional Tour
※Optional tours in the afternoon to Tottori Sand Dunes and Izumo-Taisha Shrine
WORLD ECOTOURISM SECTION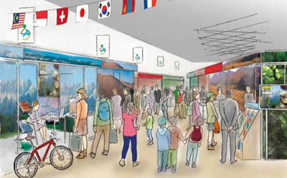 Date: 10.19th - 21st 10:00~17:00
Venue: Information Plaza
Domestic and International ecotours and activities are introduced in World Ecotourism Section. Eco-conscious tours are getting popular throughout the world. By ecorourism point of view, people are trying to create tour programs that involve not only nature but also history, culture, industries, food and everything else. After visiting World Ecotourism Section, you will know much more about ecotourism in and outside of Japan!
---
Joint Event - Kaike Daisen SEA TO SUMMIT -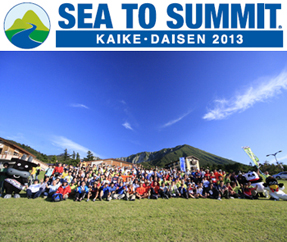 Sea to Summit is an environmental event the outdoor clothing and equipment manufacturer MontBell launched in 2009, aiming to encourage people to enjoy outdoor sports and think about the environment. The participants continuously conduct three types of races - kayaking, cycling and climbing. Please feel the water cycle in the world of nature by running from the sea to the summit of Mt. Daisen!
Registration is closed because the course is full. Thank you for your registration!
---
Joint Event - Kome Festa - (Autumn Rice Harvest Festival)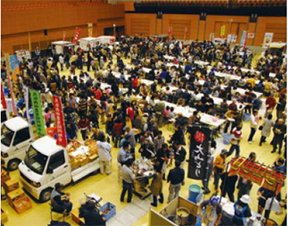 Date: 10.20(Sun)
11:00-15:00
Venue: Yonago Convention Center
You will be welcomed with friendly smiles and mini trucks filled with rice and other fresh local farm products at Kome Festa. Enjoy a draw for freshly-harvested rice. Also, rice balls give-away and many more events await you.